Basic Rules:
No Spam pages - it is messy and not good for the wiki. Respect people - treat people the way you want to be treated, if you treat them badly you'll get what you gave them back. :( Have Fun - EVERYONE MUST HAVE FUN OR RAICHU WILL CRAWL INTO YOUR HOUSE AT NIGHT.
Sploder Wiki Network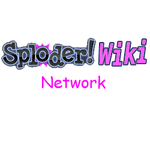 Sploder Characters and Series Database is part of The Sploder Wiki network!
Sites part of The Network: